Meet The Maker Events
SCROLL DOWN TO BOOK ONTO AN EVENT BY CLICKING LEARN MORE
Tayport Distillery is a family run distillery creating premium spirits including, Gin, Vodka and Liqueurs. Using the best of local produce within the Fife and Angus regions, Tayport Distillery have won 9 outstanding and gold awards in just 4 years, and have been featured on ITV and in Forbes Magazine. 
You will be the first to experience and taste our brand new product coming to market in May 2023, a Madagascan Vanilla Vodka and Coffee Liqueur. Not only that, you will also get to taste our well established Gins, Malt Barley Vodka and Raspberry and Blackcurrant Liqueurs. 
Here is what you can expect on the evening:
Welcome Introductory Drink
Meet the Maker and Introductions
Tayport Distillery - Brand Story and Farm Collaboration
Tayport Distillery -  How our spirits are made?
7 samples of the entire Tayport Distillery Range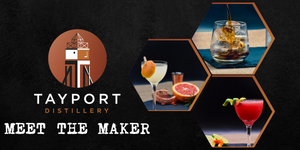 Meet The Maker : Earlsferry Town Hall - 14th July
Book via the 'Learn More' button, where you will be guided to our booking system.
Learn more